e-Banking Services
Mobile Banking
Online Bank customer already & reading this on your cell phone? Go to the App Store for your phone:

Search for TouchBanking (all one word)
Install the Application
Once downloaded, tap the icon to log in
Enter App Code: GoMobile7264 (you will only be prompted for this only during your first time log in)
Enter your Online Banking Username, then Continue (you will only be prompted for this only during your first time log in
Type in your password then Log in
It is that easy! Within our Mobile Banking App, you will be able to set up bill payments, use POPMoney, and lots more!
Transfer funds
Easily transfer money between your accounts any time day or night.
Viewing this on your computer or tablet? Click here for Mobile and Text Banking Instructions.
We have a series of cheat sheets to make mobile banking easier. Click here to check it out.
Mobile Deposit
The latest product for our Mobile Banking customers is this convenient method to make deposits. You can make a deposit with your smart phone from anywhere at any time, with these easy steps.
Endorse your check
Take a picture of the front and back
Approve image and submit.
A few points to keep in mind: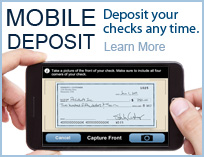 When depositing a check using the Lake Region Bank's Mobile Deposit service through the Mobile Banking App, Lake Region Bank requires all checks to include a signature as well as the statement "For mobile deposit at LRB". If the endorsement is not included on the back of your check when making your deposit via the Mobile Banking App, your deposit will not be accepted.
Any check under $5000 can be deposited, or you can make several deposits in one day as long as the total is $5000 or less. If it is greater than $5000.00 please bring it to the bank or mail it.
This service is free, and is much more convenient than driving to the bank.
Your deposit will be availableon the same business day that you made your deposit.
Business day ends at 5:00 PM.
Bill Pay
Pay bills electronically...whether you're making a one-time payment or setting up regularly scheduled payments, you'll save time and money. There is no set monthly charge for this service - it is an affordable 50 cents per bill paid.
Think of the advantages...
No stamps, envelopes or mailing
Safe, secure transactions
24 hour a day, 7 days a week access
Schedule payments
Set up recurring payments
View payment history
Get started now. Check out our Bill Payment Services by logging into online banking today!
Popmoney
Popmoney personal payment service lets you send, receive or request money from friends, family, or just about anyone with an email address or mobile number. It lets you move money from your bank account to theirs safely and securely. It is available through our online bill pay service which can be accessed through the Payments Tab in Online and Mobile Banking.
Use Popmoney to:
Give a gift to family and friends
Pay your dog walker
Send money to your child at college
Request money
The possibilities are endless!
eStatements
Tired of getting your monthly statement in the mail?
Switch to E-Statements and you will not get your statement in the mail anymore. We'll simply send you an e-mail letting you know it's ready to view in On-Line Banking. You can even save the file to your computer, if you'd like - it is an Adobe .pdf file.